Mondays are great days to recap a week of simple things meaning so much more than, at first glance, just 'things that happened last week'.
I purchased Ann Voskamp's book,
"A Thousand Gifts"
today. And because I am reading it completely through for the first time, not just flipping through while Love and I sit at Barnes & Noble, I find it only fitting to begin my Gratitude list all over again.
#1~ a revelation I had today about Ann, her story, my struggle with jealousy and God's forgiveness.*


#2~breathing fresh air and enjoying young men and hubby lead me down the side of a mountain rather than take the trail because 'it's much more fun that way'...
#3~my future daughter-in-law dropping by to show me their handmade wedding invitations for June 2nd. Just stunning!
#4~chatting with my father-in-law Saturday morning, discussing many things, listening as he shared his heart.
#5~cuddling with Love behind a locked door as we read together, sharing heart to heart.
#6~another blogger,
Sheri
, partnering with me in prayer as we walk a similar journey of caring for our family and extended family.
#7~taking the day off for President's day.
#8~seeing Daddy's hand leading us down a path of serving others in a Life Group.
#9~Estroblend for my changing hormones!!!
#10~a new dryer to replace the one that died two weeks ago...when rain and laundry are relentless, there's no other choice than to buy a good used one!
#11~Valentine's the whole month...
#12~walking outside and hearing the sounds of geese and I look up to see a flock overhead.
Beautiful gifts to celebrate His love for me. What are your gifts this week?
Take the JOY DARE and join Ann's community:
(just click on the link below.)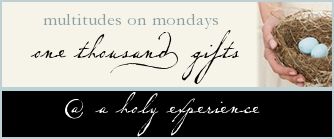 *My revelation: I've not walked Ann's path. She has. I confess that I've followed Ann's blog, A Holy Experience, for several years, only recently admitting to myself resentment toward her for what I perceived as having the things I've always wanted: living in the country, six children, farming, being able to write well, homeschooling six children, time to write books and do interviews, go on mission trips, and the list goes on and on.
Yet, today, it hit me. We are each on our own, God directed path and she's chosen to turn hers into a joyous adventure of Gratitude. What if I really chose to follow her advice? What if I dare to live life fully and completely trusting Him?
I do ask you, Ann, to forgive me, for having jealousy toward you. You are a beautiful woman of God. You eloquently pour out your frailty, and weave words that vividly express the love and kindness of our Heavenly Father toward His children. Thank you for your graciousness and your forgiveness.